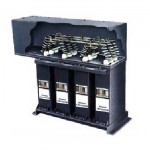 We are specialized in supplying the finest quality Capacitors, which are renowned for high capacitance tolerance, durability and high efficiency. These products are widely used in various electronic industries for varied ranges of circuit applications.
Capacitors:  (Low voltage)
These are Film + Paper + Foil capacitors available for 415/440 Volts with the following advantages.
Extremely high life ( 10 to 15 years)
Output of the capacitor remains steady for very long working period..
Can easily withstand reasonable transients & harmonics.
Low power loss.
Capacitors: (High voltage)
High voltage capacitors with reactors are offered for 6.6,11, 22& 33, 66 KV Sub stations