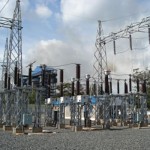 A Substation is a part of an Electrical  Generation, Transmission, and Distribution System. Substations transform voltage from high to low, or the reverse, or perform any of several other important functions. Electric Power may flow through several substations between generating plant and consumer, and its voltage may change in several steps.
Substations can be classified into:
Air Insulated Substation (AIS) or
Gas Insulated Substation (GIS)
Types of Substations:
Generation Substation
Transmission Substation
Distribution Substation
Switching Substation and etc.
We take the supplies of complete substation equipments on turnkey/package basis that include transformers, switchgears, cables & conductors, earthing material, batteries & chargers, hardware fittings, etc.
We have successfully catered to the turnkey supply of 3nos of captive substations in Kenya, which are under  satisfactory operation for more than a year now.