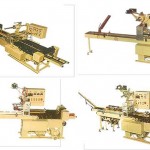 NELION EXPORTS has been associated with a leading manufacturer of Horizontal Pillow Pack Machines, in India.
While serving the needs of Quality Packaging for the overseas biscuit manufacturers, the company has also kept in mind the cost consciousness. Our machines, specially designed with heavy duty construction and international engineering standards, assure maximum efficiency under continuous production run.
The various model of biscuit packaging machinery for biscuit packaging that can be offered include: a. FAMILY PACK, with 3 or 4 stacks of biscuits. The machine is equipped with a volumetric feeding arrangement, to feed single stack of plain biscuits. The single stack of biscuits are then grouped together in 3 or 4 stacks form and then the guide rods carry the rows of biscuits together into the forming box for final sealing and cutting operation. The machine is equipped with frequency A.C Drive unit (invertor) for smooth functioning and air type gusseting arrangement. The machine also packs Cream Sandwich Biscuits with manual feeding.
Packaging of rectangular, square or round plain biscuits in "standing on edge" condition.
Biscuits are fed into the main hopper. The machine is specially designed with new automatic feeding arrangement to precisely select the required stack length & transfer the biscuits smoothly into the main feeding conveyor. During this process, nylon lugs carry the biscuits with wrapping material to the main wrapping unit through the easy adjustable folding box, through the pair of hot body sealing rollers for center seal. The final end sealing & cutting is done by the rotating hot crimpers.
HIGH SPEED MACHINES CAN ALSO BE OFFERED IN THIS VARIANT TO DOUBLE THE OUTPUT WITH 2 AUTOMATIC FEEDING ATTACHMENTS.
Packing of rectangular, square or round cream-sandwich biscuits in "standing on edge" condition.
Biscuits are manually fed into the 'L' type conveyor and transferred smoothly by specially designed pusher mechanism into the main feeding conveyor. From the main-feed conveyor, biscuits are simultaneously carried by the nylon lugs through the adjustable folding box along with wrapping material for center seal, by the pair of hot sealing rollers. The end sealing and cutting is done by the rotating hot crimpers.
Packing of plain /cream biscuits in tray and biscuits on pile (Single or Double) through chute (hopper) feeding attachment.
The biscuits are fed into the chute attached to the main feeding conveyor for automatic counting and feeding of biscuits on pile. The machine is also suitable to pack soap, surgical cotton rolls, noodles , bakery products , wafer biscuits, ice-cream lolies etc. The maximum product.
Recent Developments: 
We have developed a new high-speed machine to pack biscuits (4 Biscuit on one pile) at 160-200 packs per min.
We have also developed a machine for 3 line or 4 line (Family pack) for packing biscuits with auto feeding arrangement.
TAILOR MADE APPLICATIONS CAN ALSO BE OFFERED BASED ON OUTPUT, TYPE OF PACKING & BISCUIT DESIGN.