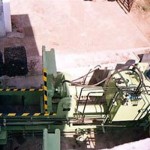 Steel industry demands a lot of scrap processing. Scrap bundling machines aid inoptimizing the efficiency of charging scrap in the furnace. In addition, it helps in utilizing maximum area of the induction furnace, thus minimizing losses.
Depending on the furnace charging capacity, & the desired efficiency of the bundling press, & the quality of scrap, following types of Scrap Bundling machines can be offered.
Scrap Bundling Machine that can bale 5 tons upto 25 tons of scrap in a shift are available.
We can offer following types of Scrap Bundling Machines:-
Triple Action Baler
A Triple Action baler presses the scrap from three sides i.e. from the Top, Length wise & Sideways. Such balers are best suited to meet the high production requirements and produce significant cost savings during the scrap transportation. These also enable the maximum feeding of scrap in the furnace during the heat.
Continuous hydraulic scrap baling press produces high-density bales. The higher pressing force and greater output makes these metal balers one of the fastest and the strongest bundle presses / baling presses.