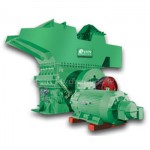 A Shredder is a machine that tears large scrap into smaller portions of higher density that are free from rust, dust & colour contents. The scrap is fragmented into small pieces by specially designed Hammers that strike the in feed scrap with very high torque. These hammers beat, shred and shear the scrap feed inside the machine until it is converted into the sheave size which is provided at the bottom structure of the machine. The hammers are made of special alloy steel for longer life and impact resistance.
Today, every business recognizes the importance of reducing the waste and treating it more responsibly, thereby reducing the carbon foot print and lowering its environmental impact.  Sustainable business strategy is on everyone's list as our world is scarce with resources and hence, we ought to bring business models that create minimum waste.
A metal shredder with a magnetic conveyor belt can shred & segregate the ferrous and non ferrous scrap; a bio-medical waste shredder can shred the sterilized medical waste & reduce its size and a car shredder can transform the complete car into small pieces within minutes. Therefore, a few key aspects are worth considering before finalising what type of shredder best suits your requirement.