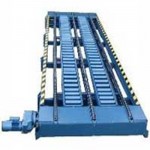 Chain Conveyor is basically a convenient way for transporting bulk material from one location to another in horizontal, inclined and vertical position. In this, one or more chains act as the conveying element and it can convey material multi-dimensionally at a time. The conveyor adapts it arrangement to any local condition.
Chain conveyors are exported / supplied in various types i.e. Apron,Slat, U, Drag and Redler chain types to convey material in horizontal inclined and vertical position.
The Chain Type Conveyor is available in various sizes of width from 200 mm to 2000 mm width. Chains read in Double Strands generally.
Conveyor is closed from all sides and "Drag Plate" is fixed in between two rows of chains runningparallel to each other.
Chain conveyors generally have double or triple strands of chains running over fabricated frames. They are often used in conjunction with roller conveyors, handling cartons, bins, warehouses etc. A chain conveyor provides good positive drive and is an economical form of transportation of goods.
A comprehensive range of low power consuming, sturdy chain conveyors, manufactured using quality raw material can also be offered as per customer's specifications.
Series of Chain Conveyors includes:
Gravity Conveyor
Fine Conveyer
Uni-Con
Ois Conveyor
Portable Conveyor
Industrial roller chains used for carrying the materialdepending upon geometry of material to be carried, available space and ambient conditions, it can be constructed in ½", 5/8", ¾" , 1", 1.5" pitch with simplex, duplex and triplex chain.
Being standard available chains are used, these conveyors are easy to manufacture as well as easy for maintenance. These conveyors are generally used for carrying materials like steel billets cold or hot upto 1200 deg C, forged / cast items etc.
These conveyors are used to convey forged components from forging press to trimming press. Width of conveyor depends upon dimensions of component to be handled. Heavy to Medium sized components can be handled on these types of conveyors.
These conveyors are also used to handle flash from trimming press. These are high speed conveyors.