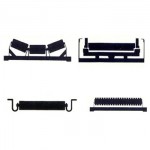 Conveyor idlers are used to carry or convey conveyor belt loaded with bulk material. These idlers are fabricated from different materials such as heavy guage steel tubing or ERW/Seamless steel tubing, depending upon the requirement and their applications. The pulley of the idlers are fitted on deep groove ball bearings and are provided with labyrinth seals to insulate them from dusts etc. These idlers are specially designed to provide smooth transition of bulk material for long period of time.
Troughing idlers are used for conveying bulk materials, and are designed and manufactured with Troughing angels of 20 deg and 30 deg normally. Idlers of 45 deg trough angle or any other angle are also manufactured as per customer's design and drawings. We can also design manufacture and supply 5 rollers type idlers. Mounting brackets are manufactured out of standard steel sections to have rigidity and stability of the frame. Shafts are manufactured out of Carbon steel bright steel bars suitable for any torsional load and bending movement.
Rubber disc idlers are known as Impact Idler fitted with rubber rings made from natural / Synthetic / Neoprint material. The fixing arrangement and dimension of rings are suitably design for easy replacement and interchangeability which protect the belt by absorbing impact at loading point. The troughing angle is 20 deg or 30 deg
Return belt idlers are suitably designed to support the return belt to avoid sagging.
Troughing training idlers are provided with guide rollers suitably designed to ensure the proper alignment of belt and automatically trains the belt from misalignment and protect the belt edges from wear and tear.
Return belt Idlers are used for wet and sticky material.
Flat belt training idlers automatically trains the belt from misalignment and protect the belt edges from damages caused by the same. The action is positive for belt operations.
Conveyor pulleys are manufactured out of heavy gauge steel tubing, best quality ERW/ seamless steel tubes and rolled plates duly fitted with carbon steel single piece shafts suitable for torsional load covered with two side of welded plates and heavy hub to suit the shaft dia. The pulleys are rubber lagged with natural synthetic / neoprint material with and without herringbone groove.
List of Idlers:
Troughing Idler
Rubber Disc Idlers
Return Idlers
Troughing Training Idlers
Return Belt Rubber Idlers
Flat Belt Training Idlers