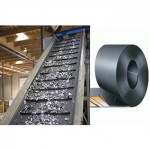 Conveyors in different industries require different types of belts based on their applications.
We supply wide range of belts caters to critical requirements of material handling applications in the movement of loose bulk material. These belts are fabricated from various materials such as rubber compounds, PVC, Nylon and Urethane
We supply conveyor belts upto 2000 mm width and in various grades conforming to international standards. We also offer customised solutions depending upon their requirements and specifications.