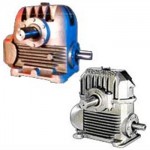 Gearboxes are metal casing inside which the whole gear arrangement is kept in a sealed form. The main function of gearboxes is basically to convert the input provided by the prime source into an output of lower RPM and correspondingly to the higher torque.
Worm reduction gear boxes are available up to 10″ center distance and in universal type up to 3.5″ center distance with horizontal or vertical shafts position as required.
Helical Gear reducers are available in various power ratings in multiple stages of reductions to suit customer's requirements.Special purpose Gear boxes and planetary drives can be designed and manufactured to suit customer requirement.
Geared motors are available from 15 HP in foot and frames mounting for 1000 speed application in compact design and manufactured out of alloy steel material duly hardened and ground gears/ pinions/shafts in multiple states.
Worm Gear Boxes
Helical Gear Boxes
Geared Motors
Fluid Coupling & Other Couplings
Planetary Gearbox
Parallel Shaft Helical Unit
Bevel Helical Gear Unit
Surface Aerator Unit
Tube Mill Unit
Positive Infinite Variable speed Drive
Plastic / Rubber Extruder Unit
Hollow Output Shaft Unit