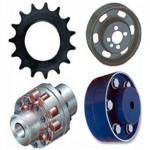 We export a comprehensive range of Power Transmission Products that form an integral part of the conveyor system. Based on the technical guidance of experts, we specialize in providing variety of Power Transmission Products including Sprockets, V Belts, Pulleys, Couplings, Pinions and more. All these products are superior in quality and provide reliable operation in a cost-effective manner. We offer the following transmission products:
Sprockets
Roller chain sprockets
Conveyor chain sprockets
Elevator chain sprockets
Silent chain sprockets
V Belt pulleys
With and without taper bushes
Coupling
Pin/bush type
Flexible
Chain Couplings
Jaw Couplings
Gear couplings
Fluid couplings
Roller Chain Sprockets are available from 4mm pitch to 4" pitch in single and multiple strands manufactured out of standard mild steel material, carbon steel material with duly flame hardened teeth and also from stainless steel material with various grades.
Pin Bush Type Flexible-coupling contains  set of cone-flex ring along with pins and nuts. This cone flex ring  is added to give flexibility to the rubber which can be moved in any direction.
We execute  supplies of flexible chain coupling. It is plain, sophisticated and has highest efficiency. It has the capacity to hold huge loads.
Make speed variations – PIV chain Drive units are available up to 20 HP in maximum speed range of 6:1 ratio to substitute various make of PIV gear boxes for Cement, Textile, Printing, Fertilizers and thermal power stations.
We offer superior range of pulleys manufactured out of high grade Cast Iron material to suit A to E section belts in single and multiple grooves with and without taper lock bushes.
We offer different types of industrial seamless buckets that are manufactured using best quality steel, in different gauges and also available in Nylon and food grade plastic material. The special types of fabricated buckets can be design and manufacture as per customers specification and application.