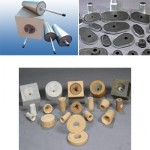 With expansions & technological advancement, continuous casting (concast) technology is gaining prime importance in the field of steel manufacturing. We supply various types of concast consumables as follows.
Wide range of slide gate plate refractories for various international systems.
A range of High Alumina cast or fired, Alumina Spinnel cast or fired, Alumina Carbon fired.
Magnesia Carbon fired Inner and Outer Nozzles are supplied as per the requirements of the slide gate system.
The Company supplies  a very wide range of Tundish Nozzles used for controlling the flow of steel from the Tundish to the Continuous Casting equipment including, Zirconia Zircon Nozzles – Manufactured in 65% to 95% Zirconia for single to multiple casting application with a teeming time of up to 40 hours. Isostatically Pressed Nozzles – made in Alumina Carbon quality for large steel plants.
We supply complete set of bottom pouring refractories including the porus plug, PP housing block, porous plug sleeve for a wide range of systems including GP II, GP III, IPV with systems.