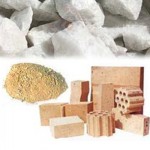 The refractories that go for smelting plants are highly heat resistant & durable. These are offered in various gradations depending on the application.
The refractory bricks ( bottom pouring sets, tundish tiles, laddle sleeves, laddle nozzles, fire bricks, fire tiles, taper bricks, insulation bricks, magnesite chrome bricks, etc) can be offered various grades, i.e. IS 6, IS 8, High Alumina ( 50 %, 60% & 70 %).
In addition to refractories, we also offer high quality refractory castables that deliver exactly what they promise. The castables offered are with Greater dependabilit,Longer application life & Easier installation. Lower energy costs. Lower maintenance cost. Reduced downtime. Greater productivity & for operating temperature varying from 1300 – 1800 deg C.
RAMMING MASS: Acidic Ramming Mass is used in the lining of induction furnaces. Quality of Acidic Ramming mass is directly related to the heating performance of the furnaces. Better quality of lining results in the smooth working of furnaces, optimum output and better metallurgical control. It is manufactured under strict supervision of qualified & highly experienced work force. Proper check is exercised on magnetic process to assure iron free material and to assure proper composition of granules according to furnace capacity. The granulation of the mix are optimized keeping in view the furnace make and capacity, thus giving maximum and best results. It is characterized by thermal stability, corrosion resistance and wear resistance because it contains less binders, fire clay and moisture compared to plastic refractories.
The granulation for the ramming mass is always done based on the furnace capacity & suitable upto approx. 1700 deg C with a purity of 98.5 % – 99%.
Ramming Mass offered is in 3 variants, SNOW WHITE, SUPER SNOW WHITE & PRE-MIXED RAMMING MASS PREMIXED WITH BORIC ACID.