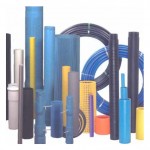 PVC is a versatile and resource efficient thermoplastic with an extensive range of applications in virtually all areas of human activity.
Unlike most other thermoplastics, the majority of PVC applications have a lifetime of between 10 and 100 years. This requires proven durability and heat stabilisers play an important part in achieving such performance.
We offer the complete range for PVC stabilisers to be used in different applications for PVC processing. These include:
Lead Based Stabiliser

Tribasic Lead Sulphate
Dibasic Lead Stearate
Dibasic Lead Pthalate
Dibasic Lead Phosphite
One Pack Stabiliser suitable for manufacturing PVC Compounds, PVC Pipes, Reinforce Suction Hoses, PVC fittings, Cables, Profiles, Sheathings.
Barium – Cadmium / Barium – Cadmium Zinc Based Liquid / Powder Stabiliser suitable for extruded films, calendaring, Sheets, transparent braided hoses, Suction hoses & footwear applications.
Individual data sheets can be provided upon request, depending on the product tobe manufactured & the end application.