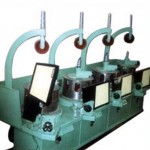 WIRE DRAWING MACHINE
Six Block OTO Type Wire Drawing Machine
Wire Drawing Machines are available from 3 Blocks to 11 Blocks & 300MM to 600 MM dia. DOUBLE BOX  TYPE CONTINUOUS WIRE DRAWING MACHINE FOR NO TWIST can also be offered.
Bull Block Type Wire Drawing Machine & Double Dack Type Wire Drawing Machine
Product Specification
General Construction:
All Drawing Blocks are internally water cooled by multi jet spray. The Blocks are manufactured from special quality cast iron.
Die Box:
Die Box Comprises of two separate compartments, one for the dry shop drawing lubricant, & another one for water cooling of the die. The box is adjustable in vertical & horizontal positions.
Operator Controls :
START-STOP Push Button, INCH foot switch, ON, OVER LOAD, GUARD OPEN indicators, etc.
Guards:
Machines have rear steel plate guard and also wire mesh guard provided covering the units from front. All mesh guards are electrically interlocked and when guard is open entire machine will shut down.
Pull In Tong:
Box type tongs with hardened jaws are supplied with each machine to cover the full range of wire sizes to be produced. The Tongs have a length of chain and a hook to fit into the pockets of each blocks.
Note:
Max. Power & Finished speed shall vary as per application.